For Timps and Tape v1.0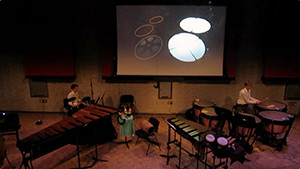 Saturday, 15th March 2014, 7pm – RNCM Spotlight Concert, Gravity Percussion Duo
Carol Nash Recital Room, RNCM, 124 Oxford Road, Manchester, M13 9RD
---
"Gravity Percussion Duo welcome you to this exciting 30 minute Spotlight Concert that incorporates different percussion instruments from around the world. We have also been working closely with our special guests Lewis Sykes and Zachary Snow from Manchester Metropolitan University on two of our pieces tonight, which present how the art form of Percussion can be enhanced by visualisation."
Programme:
Matthias Schmitt (arr GP) – Ghanaia
Zachary Snow – Moon
Arthur Lipner – Space Dancer
Jan Bradley (arr GP) – For Timps and Tape – with visualisation by Lewis Sykes and Ben Lycett
---
This real-time visualisation of Gravity Percussion Duo's arrangement and performance of Jan Bradley's For Timps and Tape – an accompanied solo for five timpani – is a next stage development of Moiré Modes v1.1 – a short, abstract audiovisual work created as part of Lewis Sykes' Practice as Research PhD and recent collaborative practice with Ben Lycett. It first featured as part of a performance at Seeing Sound 3, Bath Spa University, UK, 24th November 2013.
A custom vibration sensor system – using piezo transducers, a SpiekenzieLabs Drum Kit kit and Teensy 3.1 – detects the individual mallet hits on the timpani and converts them to MIDI. Each timpani drum is represented on screen as an ideal, virtual drum skin – which when triggered displays one of the first 5 'preferred' vibrational modes, sometimes emphasised by means of Moiré patterns.
Future versions will see the usual 'Tape' accompaniment, in this case performed live using a MIDI drum kit, also visualised as a background texture of dynamic Lissajous figures.
The work explores real-time music visualisation using custom-made hardware and software systems developed by Sykes and Lycett using the creative C++ toolkit openFrameworks and Arduino micro-controller platform. By looking for similar qualities to the vibrations that generate sound in the visual domain, they try to create an amalgam of the audio and visual where there is a more literal 'harmony' – in an attempt to show a deeper connection between what is heard and what is seen by making the audible visible.
---
---